RAKINDA Provides Door Lock Solution with QR code, Key, Password and Card to Open Door
Keyless Entry Door Lock Features:
1.Key, magnetic card and WeChat app for opening, and add QR code for unlocking door functions, encryption processing, high-precision recognition, decoding only takes 0.04 seconds.
2.The financial level security encryption chip module certified by the National Cryptographic Bureau, which provides national secret algorithm and high protection level for decoding QR code between using equipment and communication.
3.Using NB-IOT and low-power Bluetooth (BLE) dual link as communication mode, enhance communication quality, and add verification and failure retransmission mechanisms to reduce the bit error rate.
4.Aviation-grade aluminum alloy, which is not easily broken by strong impact, and has high-grade shape. It adopts an integrated molding process to ensure the continuity of the lock body and reduce the possibility of the lock body being opened.
5.Tempered glass panel, high cost, good transparency, not easy to scratch, high hardness, pressing is not easy to deform, will not melt when exposed to fire, high safety factor.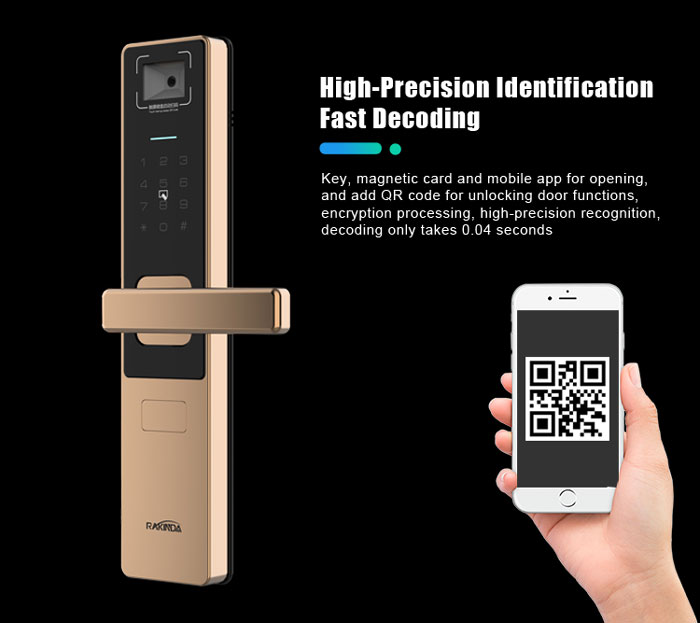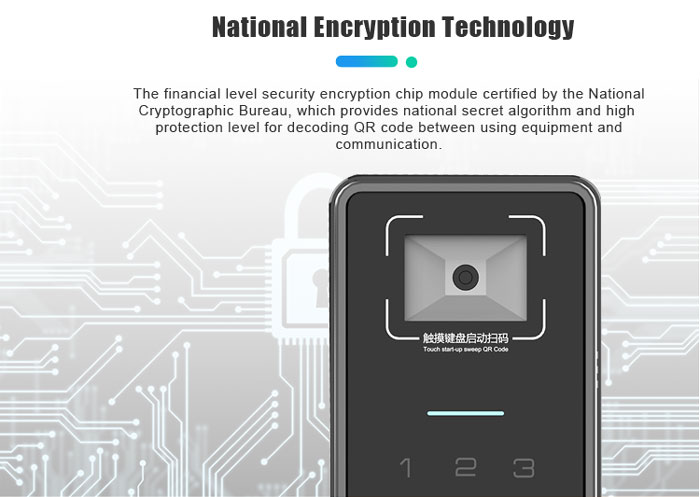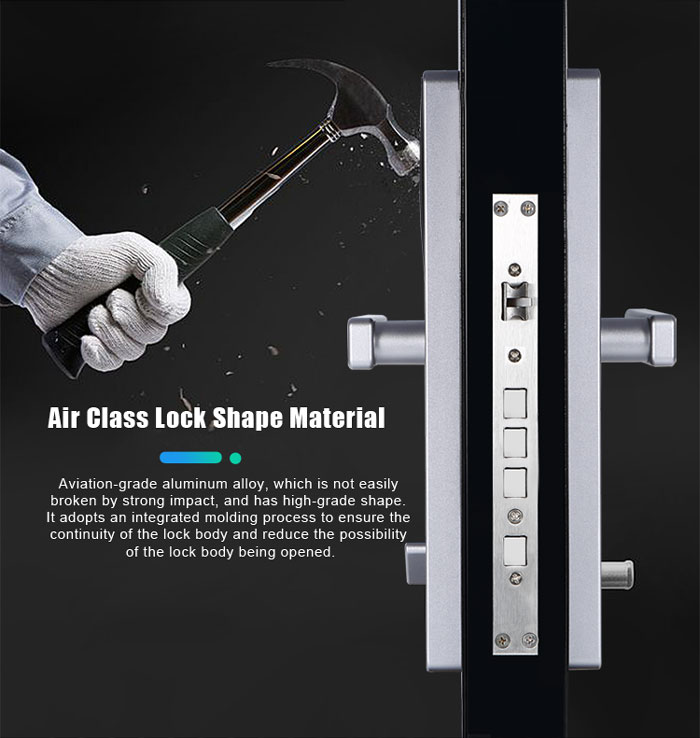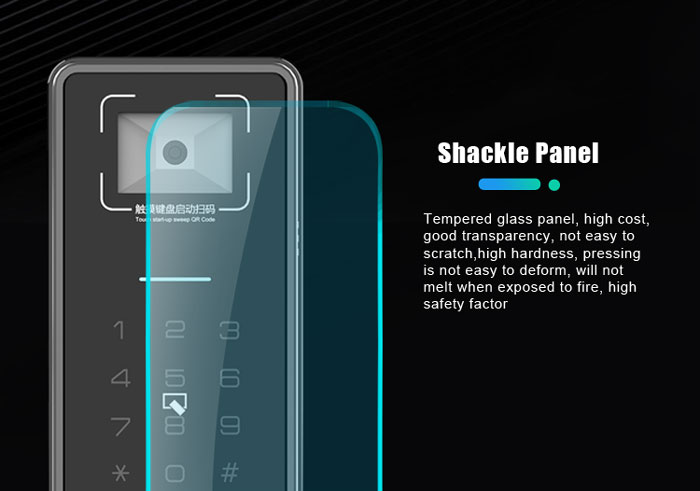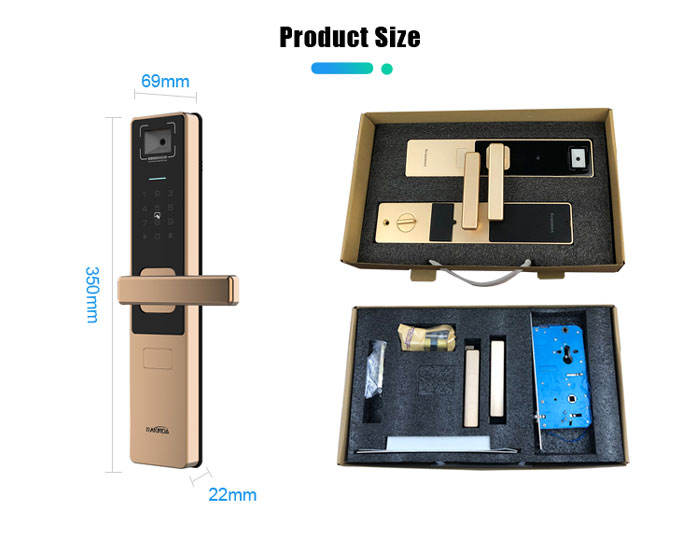 SystemParameter
Supply voltage
DC 4.5 -6V
Low battery alarm voltage
≤ 4.8V
Spare power supply
Micro USB 5V
Standby power consumption
≤50 uA
Average trouble-free working time
≥25000h
battery
4pcs No. 5 alkaline battery 1.5V
anti-static
Touch ±8KV, Air ±15KV
Working humidity
10% ~ 95%RH
Operating temperature
-20℃ ~ 60℃
MachineParameter
data encryption
National secret encryption algorithm
Unlocking method
QR code, password, NFC, emergency key, remote APP, combination unlock
Material
6063GB aluminum profile aluminum CNC
Lock cylinder
Class B anti-theft lock cylinder
USB Emergency Power Supply
Micro USB 5V1A
2D codeUnlock Function
Image Sensor
752X480
2D code recognition
2D PDF417,QR CODE,DATA MATRIX,Support mobile phone mirror recognition
NFCLock Function
Identification method
RFID ( ISO 14443A,14443B)
working frequency
13.56MHZ
Customs lock
Support (cards in accordance with ISO 14443A, 14443B)
Door Card capacity
QR code, NFC, password total 100, 3 group administrator accounts 3 groups of ordinary users
APP
APP
Support wechat applet
Electronic key sharing
Support
remote control
Support
Alarm message reporting
Support
Others
Double security door opening method
Support (2d code, password, nfc, any two of the same or different combinations)
Flood control alarm
Support
Reset
Hidden reset button
Trial error self-locking function
Support, any kind of unlocking mode for 5 consecutive errors, the system will alarm and force lock for 2 minutes.
Wireless power switch
Support