SM2910 RFID Reader is a new portable product developed by SCANMAX. in response to the needs of the Internet of Things. It is a smart highly integrated functionally RFID reader with high processing speed, good portability, and adaptability to various application places. The reader has functions such as UHF-RFID, 4G full Netcom network (data), Wi-Fi, Bluetooth, and GPS. At the same time, it can be equipped optionally with barcode scanner modules and camera modules.
Product Features:
1. Super Speed Reading
UHF RFID UHF Class 1 EPC2 Gen2, ISO / ISO18000-6C, ISO18000-6B. Powerful multi-tag reading function.
2. Super Configuration
Quad-core 1.0GHz processor, 1GB RAM / 8GB ROM, MODEM 3G (GSM/GPRS/WCDMA/HSPA+), GPS.
3. Compact Design
Using the latest environmentally friendly materials injection, light-weight.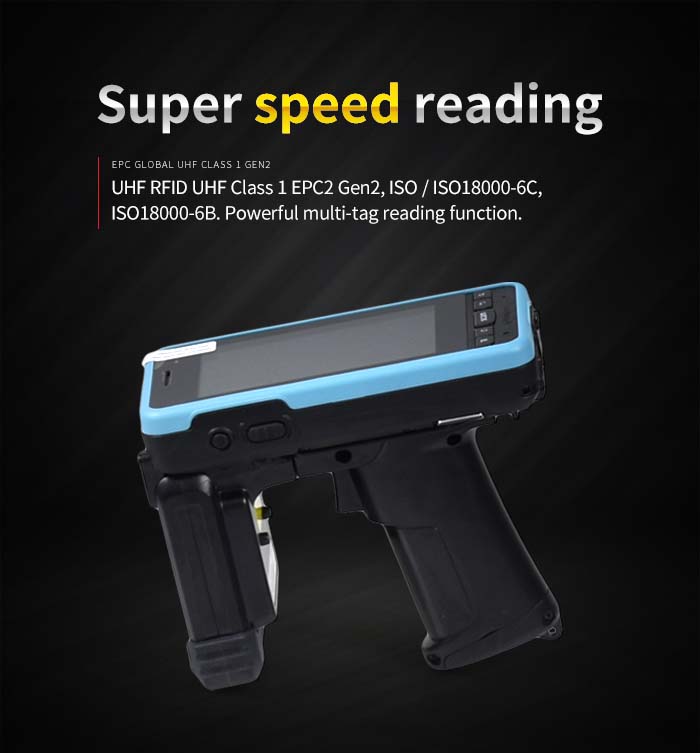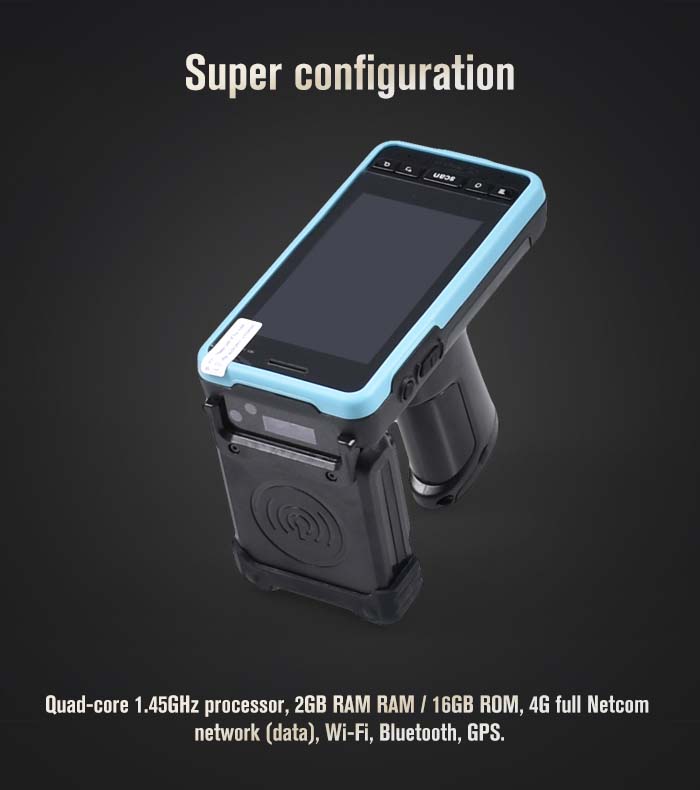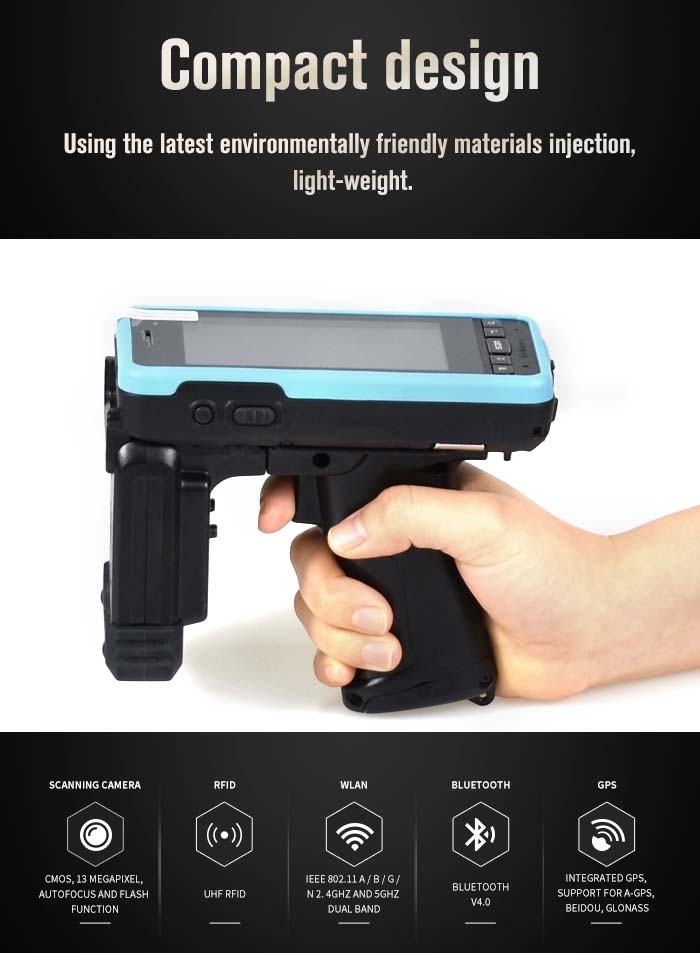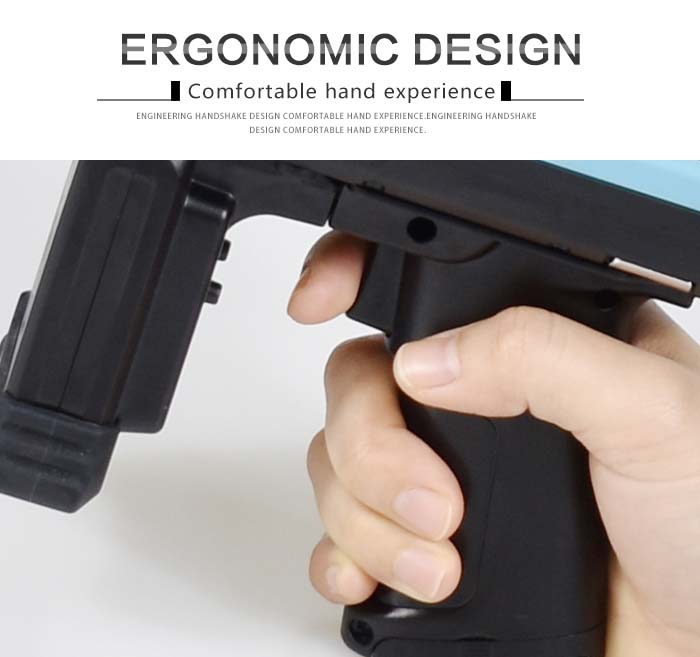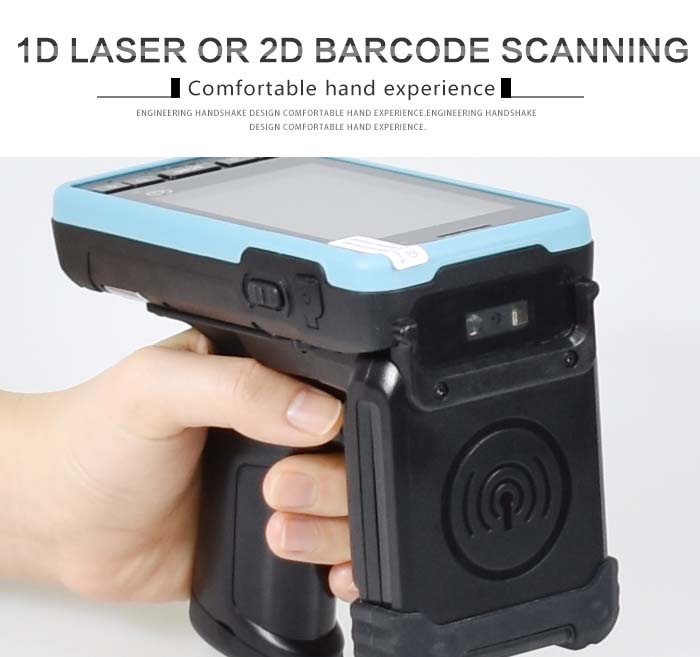 Performance Parameter
Processor: Dual-core 1.0 GHz
Humidity: 95%, non-condensing
Operating system: Android 4.2 (Jelly Bean) / Android 4.4 (Kitkat)
Display: 4" WVGA TFT BlanView LCD, 480×800, with backlight, capacitive touch screen
Memory: 1GB RAM / 8GB ROM
Weight: 259.5 g (PDA only, no battery)
Operating temperature: -20 ° C ~ 60 ° C
Storage temperature: -30 ° C ~ 70 ° C
Anti-fall: 1.5 m high drop to the concrete floor Waterproof: IP65
Physical Parameter
Audio: handset, speaker, headphone jack, microphone I/O
Port: USB 2.0 client, OTG
Expansion slot: 1 Micro SD slot (SDHC), 1 SIM slot
Notification: Vibrator and LED display, speaker
Dimensions: 145 × 75 × 129mm (length × width × height)
Battery
Main battery: polymer lithium ion 3.7V 2, 260mAh (rechargeable)
Backup battery: no
Power adapter: input AC110V ~ 240V / output DC 5V 2A
Network and wireless connection
WLAN: IEEE 802.11 a / b / g / n
Standard Bluetooth: Bluetooth Class II, V2.1 + EDR
Communication standard: MODEM 3G (GSM / GPRS / WCDMA / HSPA+)
GPS: Built-in antenna
Barcode scanning and camera
Barcode: 1D laser or 2D barcode scanning
Camera: CMOS, 5 megapixel, auto focus and flash function
UHF RFID
Operating frequency: 860MHz ~ 960MHz
Reading distance: 0m ~ 6m (depending on the label and working environment)
Write distance: 0m ~ 3m (depending on the label and working environment)
Support Standard: GEN2, ISO / IEC 18000-6C, 18000-6B*
Anti-collision: Support
RF output: 1W EIRP
HF RFID
Support standards: NFC, ISO15693, MIFARE, ISO14443A / B*
Reading distance: 0cm ~ 10cm (internal), depending on the label
Accessories
Handle: UHF / HF
Handle Battery: Lithium-ion battery 3.7V 4,400mAh (rechargeable)
Hot Contrast
2910-A
2910
Android 6.0
Android 4.2.2
4G Full network
3G Full network
2GB RAM/16GB ROM
1GB RAM/8GB ROM