The overall design of RK4000 is fully in line with fixed applications in the industrial field. The operator can complete the installation and commissioning of the equipment without any training, and enable the equipment to quickly produce work performance. The high-brightness LED and high-quality photosensitive module carried by the RK4000 internal decoding engine have a theoretical design life of up to 100,000 hours, which greatly improves the life of the whole machine.
Industrial Laser Scanner Features:
*Industrial Scanning Performance
Armed with RAKINDA third generation decoding technology, it has excellent performance in scanning various codes.
*Smart Illumination System
Armed with smart illumination adjusting function, it can meet all general environment as well as production line demand scanning environment, such as different materials (refection for example), shape (curved surface), background and code color.
*Flexible I/O Extensible Interfaces
With I/0 extensible interfaces, the scanner can realize 1 way out photoelectric coupled isolate input (NPN / PNP /relay) and two ways out photoelectric coupled isolate output (Good ; NG). It can control the external device.
*IP65 Grade
Dust proof and waterproof. It can maintain good working conditions for a long time even in a humid or dusty working environment.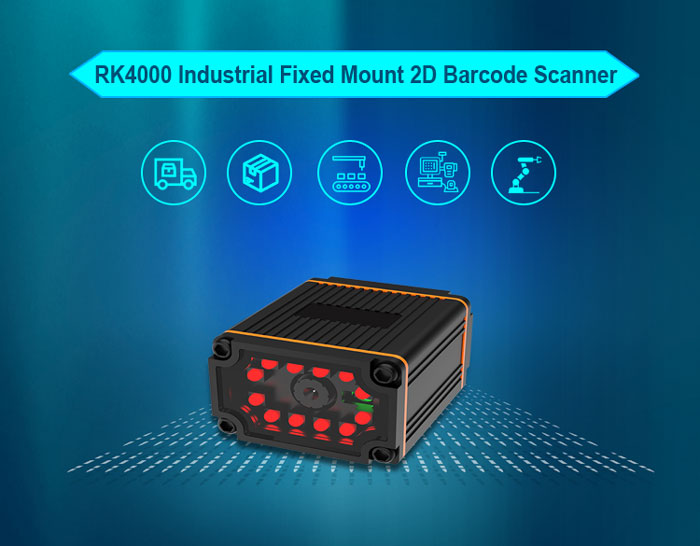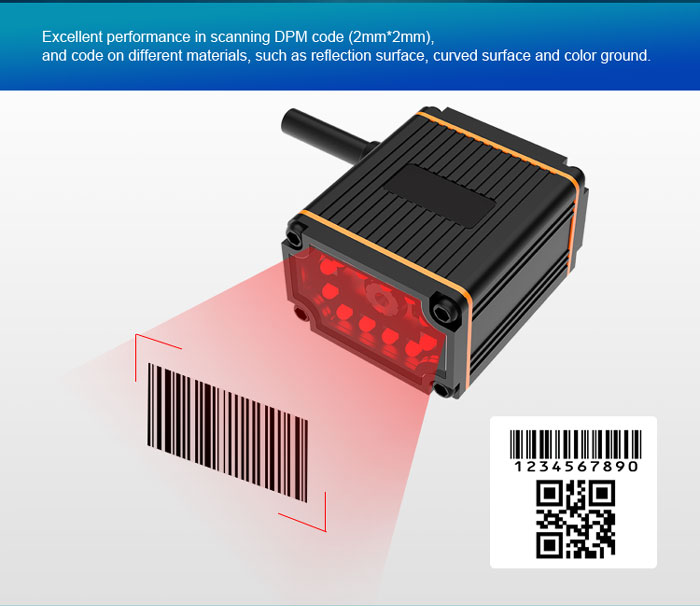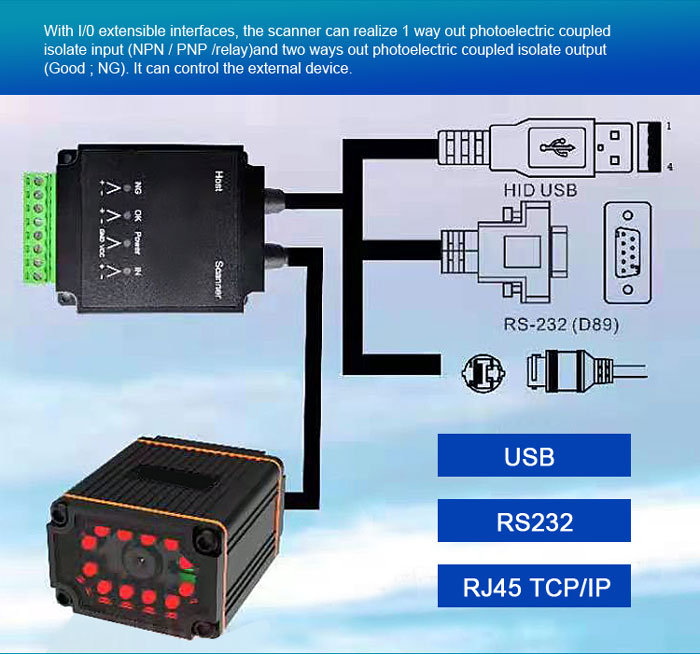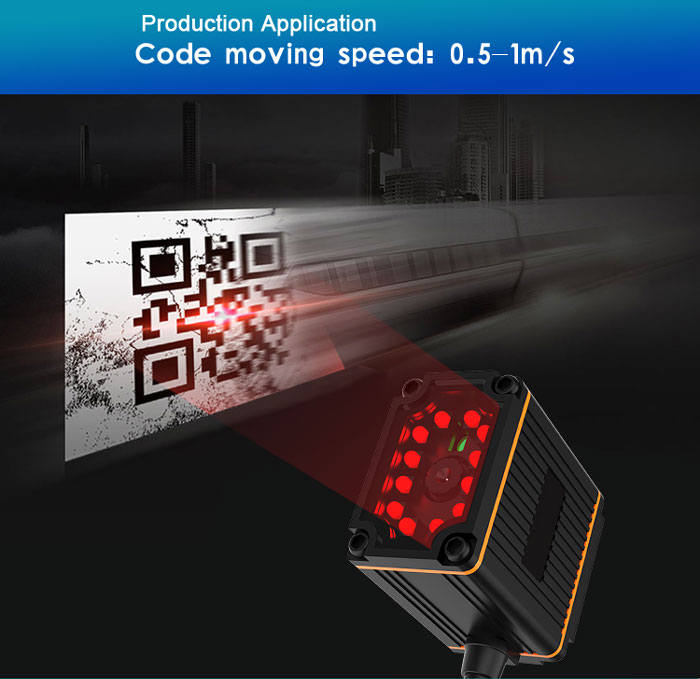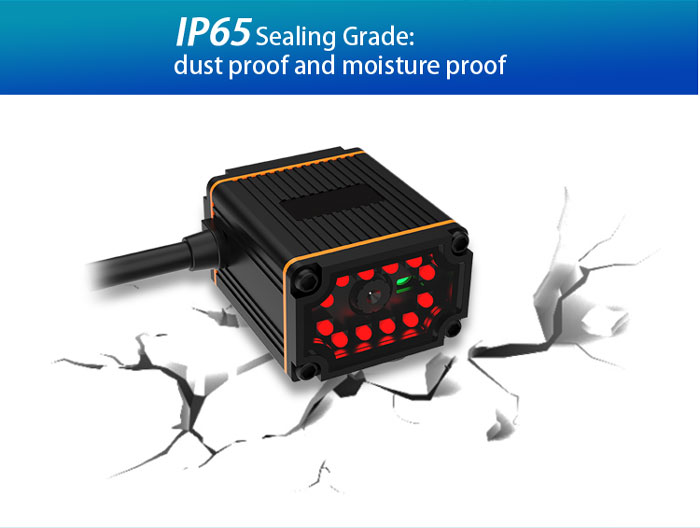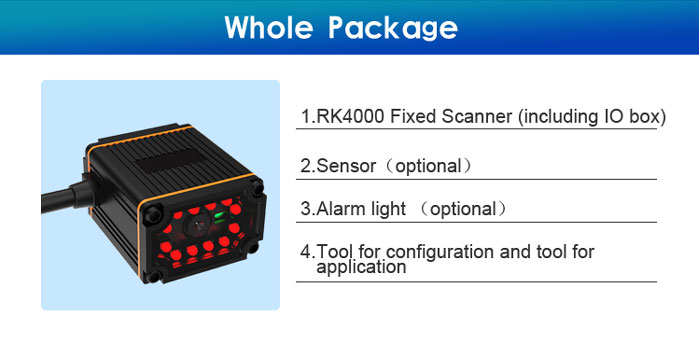 Scan Performance

Resolution

1280 * 800

Field of view

Horizontal 46° (H),Vertical 29° (V)

Illumination

High brightness red light/High brightness white light

Aiming

Green LED aiming

Scan Mode

Auto sense; external pulse mode; continuous mode; serial command mode

Symbologie s

1D

UPC A , UPC E , EAN 8 , EAN 13 , Code 128 , Code 39 , Code 93 , Code 32 , Code11 ,

Codabar ,Plessey , MSI , Interleaved 2 of 5 , IATA 2 of 5 , Matrix 2 of 5 , Straight 2 of 5 , Pharmacode , RSS-14 , RSS-14 Expanded , RSS-14 Limited ,

Composite Code-A , Composite Code-B , Composite Code-C

2D

PDF 417 , Micro PDF 417 , Data Matrix , QR , Micro QR , Aztec , MaxiCode

Typical depth of field

Versio

n

RK4000-SR

RK4000-HD

DOF

Code 39 (5mil) : 60 mm ~ 250 mm EAN-13 (13mil) : 50 mm ~400 mm

QR (10 mil) : 35 mm ~ 130 mm

Code 39 (3 mil) : 50 mm ~ 90 mm

Data Matrix (10 mil) : 40 mm ~ 150 mm

QR (7 mil) : 35 mm ~ 120 mm

Resol

ution

1D : ≥4 mil ; 2D : ≥9 mil

1D : ≥3 mil ; 2D : ≥7 mil

Print

Contrast

≥20% (UPC/EAN 100% , PCS 90%)

Mechanical

/ Electrical Parameters

Dimensions

(mm)

36(W)×43(D)×24(H)

Enclosure

Aluminum alloy

Sealing

IP65

Indicator

Buzzer, LED

Interface

RS232,USB (HID ; CDC),Ethernet(TCP/UDP/Modbus)

Power

5-36 VDC

Input

1 way out photoelectric coupled isolate input (NPN / PNP /relay)

Output

two ways out photoelectric coupled isolate output (Good ; NG)

Current@5

VDC

Working current 300 mA ±5%(typical), 450 mA ±5%(Max) Standby current 100 mA ±5%

Environmenta l

Storage

-40℃~+70℃

Working

-20℃~+50℃

ESD

±20 kV(air discharge),±8 kV(direct discharge)

Certification

CE EN55022 , FCC Part 15 Class B , CE EMC Class B