This bus integrated ticket validator machine can scan 2D code, printed or screen code, IC card and UnionPay quickly. Passengers can use "WeChat, Alipay" and other 2D code payment, in addition to 2D code payment, both credit card payment and other payment methods. Not only can help customers solve the exchange change and forget the trouble with the card; and with the amount of statistics, passenger payment time statistics and other functions that allow customers to pay for information at a glance to help bus companies reduce the cash flow of the inventory workload and the bank charges to reduce the loss with the residual coins, counterfeit money.
QR Code and NFC Reader Features
A. Burning program
After power is off, press button 1; turn on power and it will enter burning program interface.
B. Burning voice file
After the machine is working normally, pressing button 1 for a long time, and it will enter into voice file burning interface.
C. Inquiry
After the machine is working normally, press the button 2 for a short time, you can inquire the POS info, transaction records etc.
D. Rate, driver card and ticket seller card
After the machine is working normally, press the button 3 for a long time and then you can set the rate, read the driver or ticket seller card.
(Note: the functions of three buttons can be customized)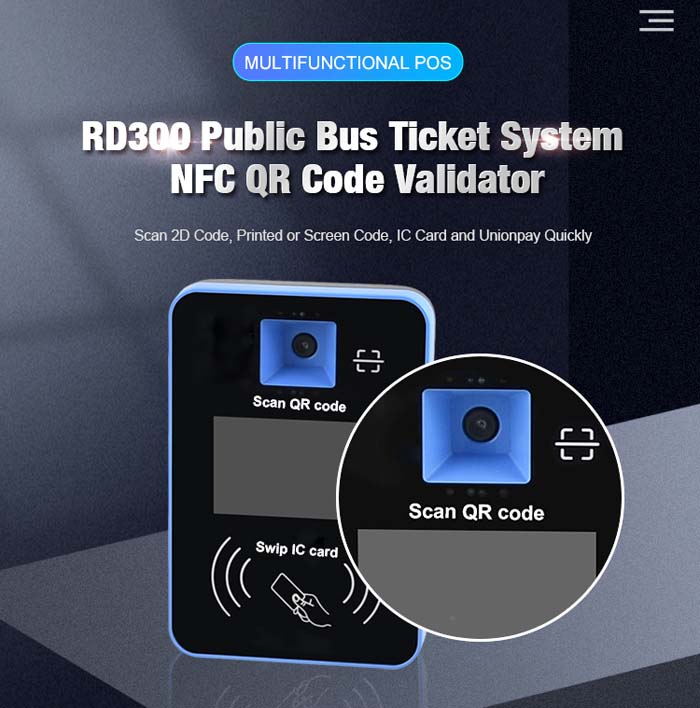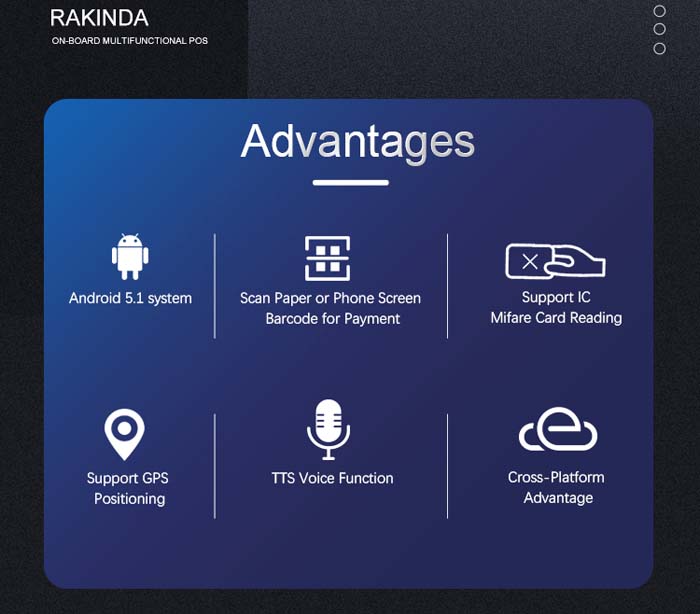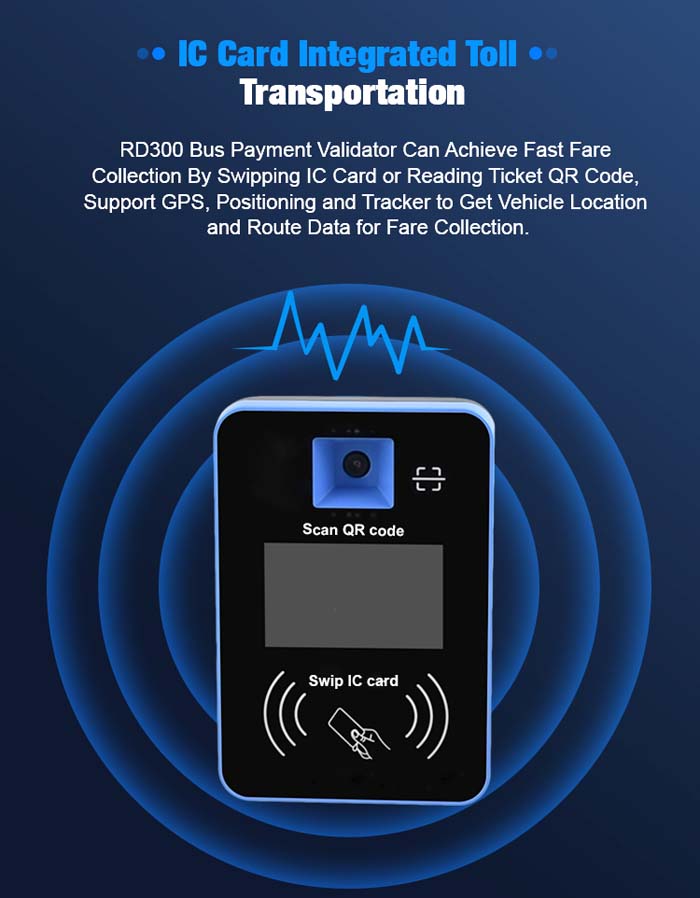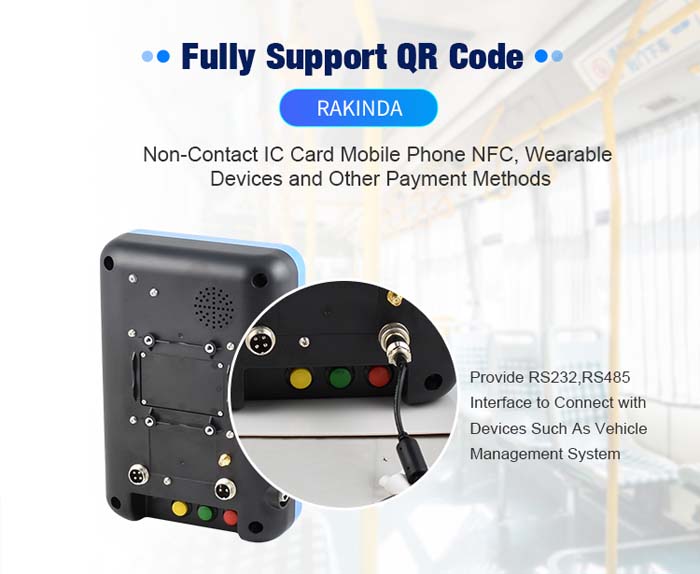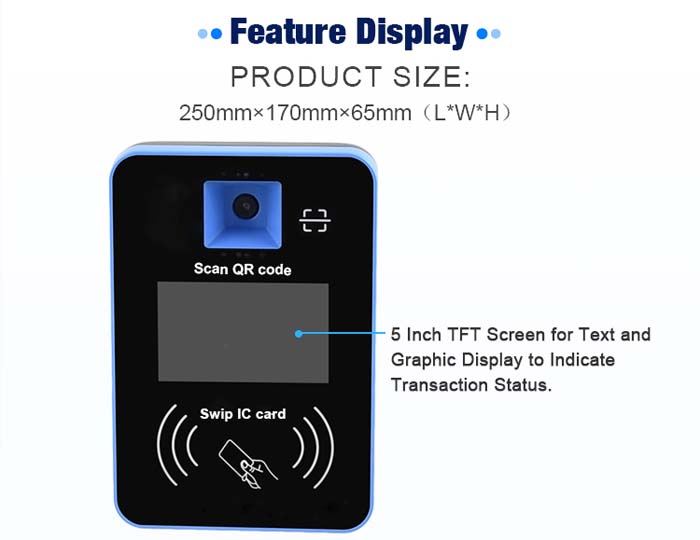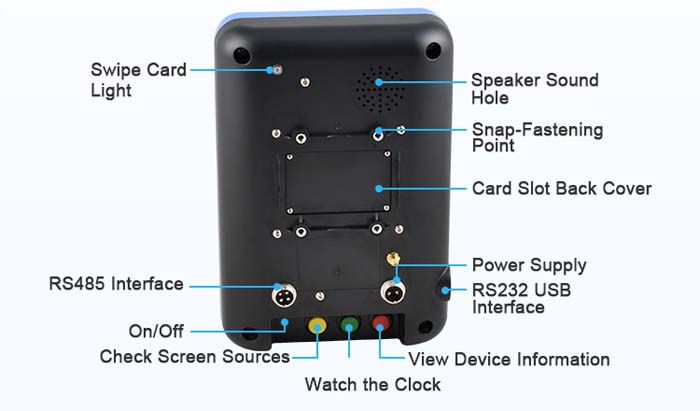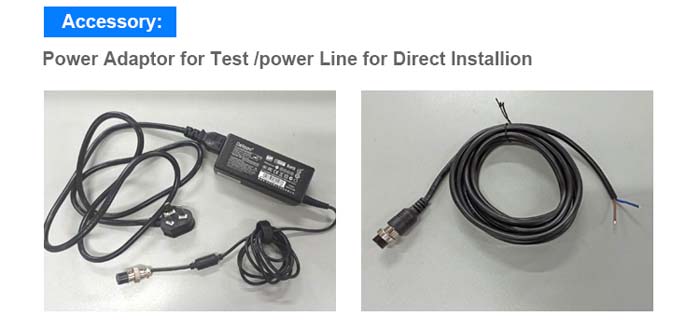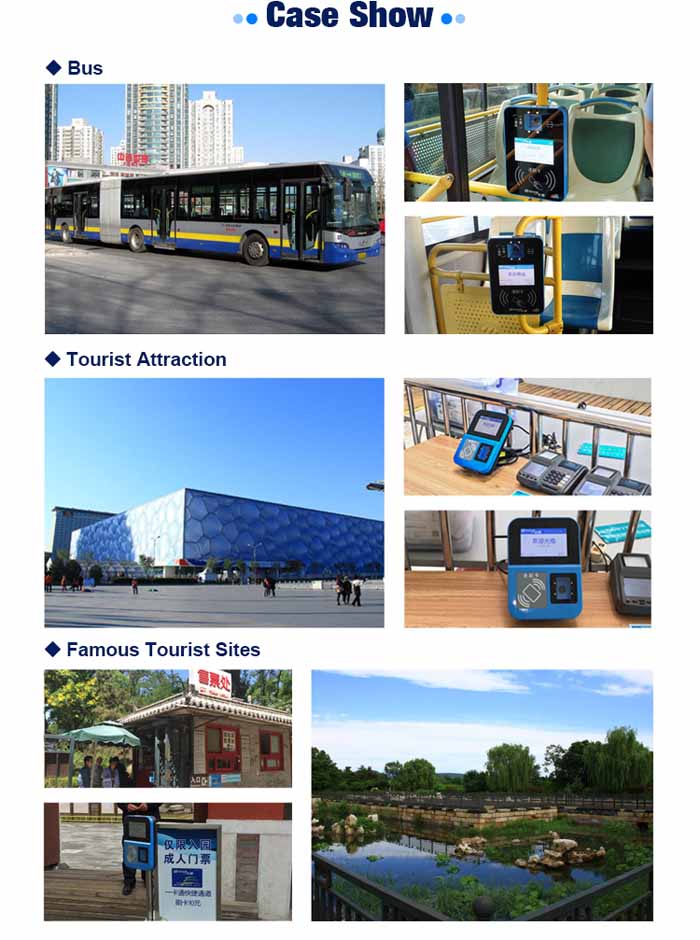 | | |
| --- | --- |
| Processor | 32 bitARM, 120MHz |
| Memory | 64KB FRAM. 8Mb+1GB DataFlash |
| Contact less Card Scanning | 1D, 2D barcode payment; support ISO14443 card, CPU card,such as Mifare 1 S50/S70, Mifare Pro, IC card, 13.56 sim card etc. |
| Sim | Support four ISO7816 sim cards |
| Voice | It can store 265 pcs of voice, and the voice can be updated through software and no need to dismount the machine. |
| Display | 5 inch TFT color display |
| Power | 9V-36V, it has protection for over-voltage, over-current, converse connection, under-voltage. |
| Interface | RS232, RS485 |
| Wireless Communication (optional) | TDD-2TG/ FDD-LTE/ wcomA/ TD-SCDMA/ GSM/GPRS/ EDGE/ WIFI/ zigbee |
| Size | 233mm×170mm×64mm |