Introduction:
* This compact, lightweight engine fits easily into even the most space-constrained equipment such as data collectors, meter readers, ticket validators and PDAs.
* The LV4200-PT OEM scan engines, armed with the Rakinda patented, a computerized image recognition system, bring about a new era of 2D barcode scan engines.
* The LV4200-PT 2D barcode decoder chip ingeniously blends technology and advanced chip design & manufacturing, which significantly simplifies application design and delivers superior performance and solid reliability with low power consumption.
* The LV4200-PT supports all mainstream 1D and standard 2D barcode symbologies (e.g., PDF417, QR Code.
* M1/M2/Micro and Data Matrix) as well as GS1-DataBarTM(RSS) (Limited/Stacked/Expanded versions).
* It can read barcodes on virtually any medium - paper, plastic card, mobile phones and LCD displays.
Product Features:
1. Technology
Armed with LongView's fifth-generation of technology, the scan engine can decode even poor quality barcodes with ease.
2. Snappy On-Screen Barcode Capture
The LV4200-PT can capture on -screen barcodes effortlessly even when the screen is covered with protective film or set to its lowest brightness level.
3. Multi-Interface
The LV4200-PT supports USB and TTL232 interfaces to meet diverse customer needs.
4. Two-In-One Design
Seamless integration of image sensor and decoder board makes the scan engine small, lightweight and easy for integration.
5. Low Power Consumption
The advanced technology incorporated in the scan engine promises low power consumption and prolonged service life.
Application Scenarios (as an accessory) Self-service cabinets used in e-commerce, express delivery services and smart homes; ATMs; kiosks; queue machines; lottery machines; certificate makers.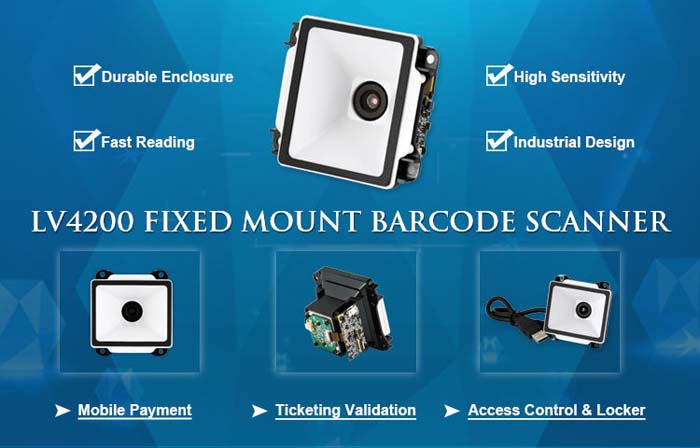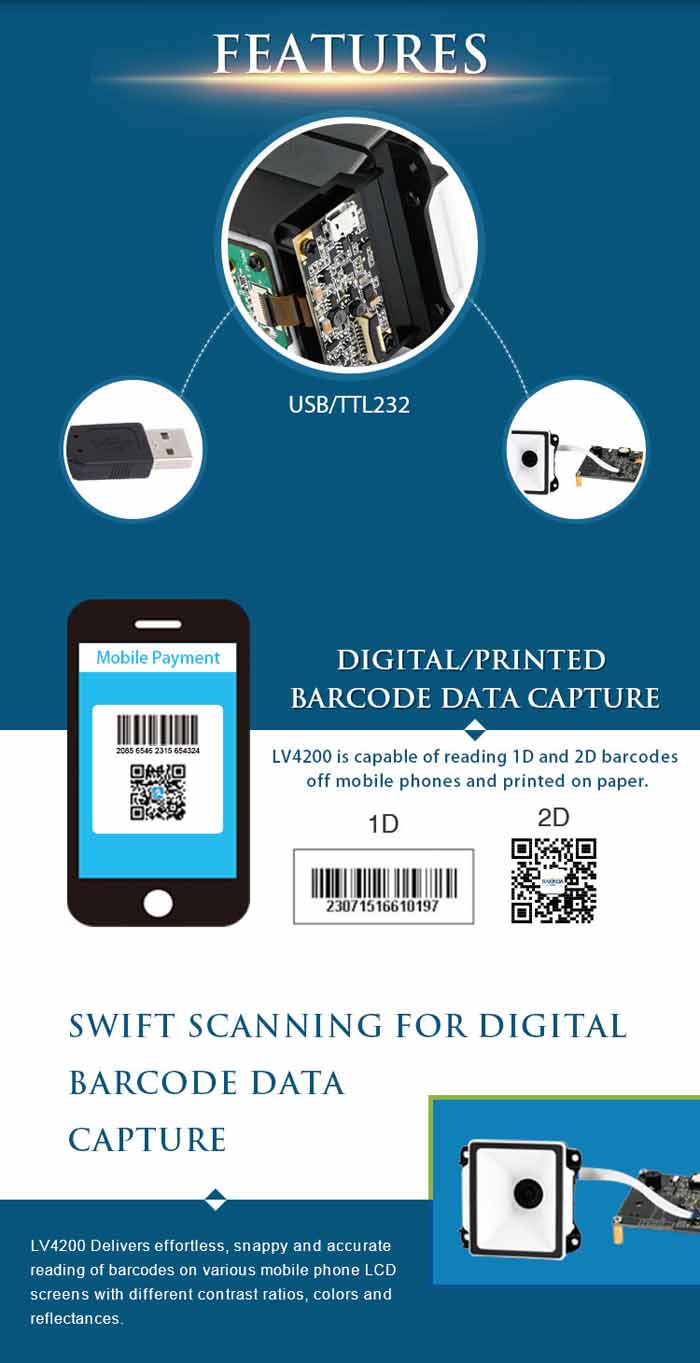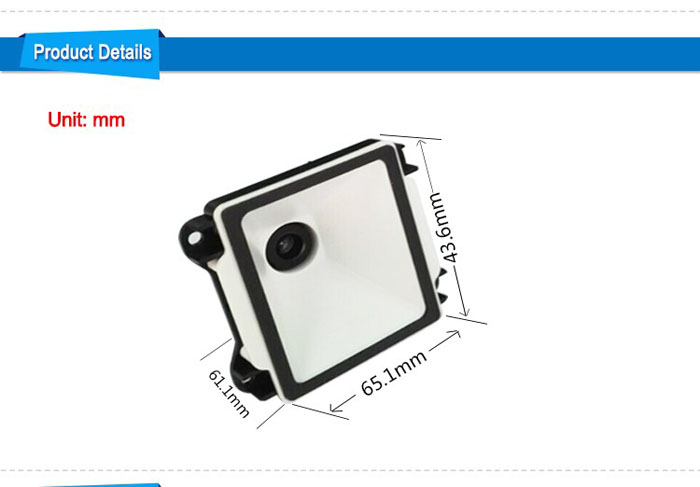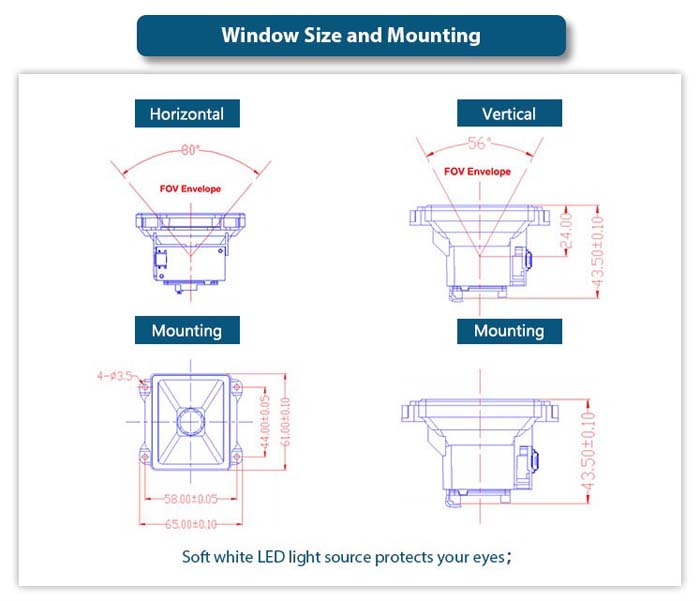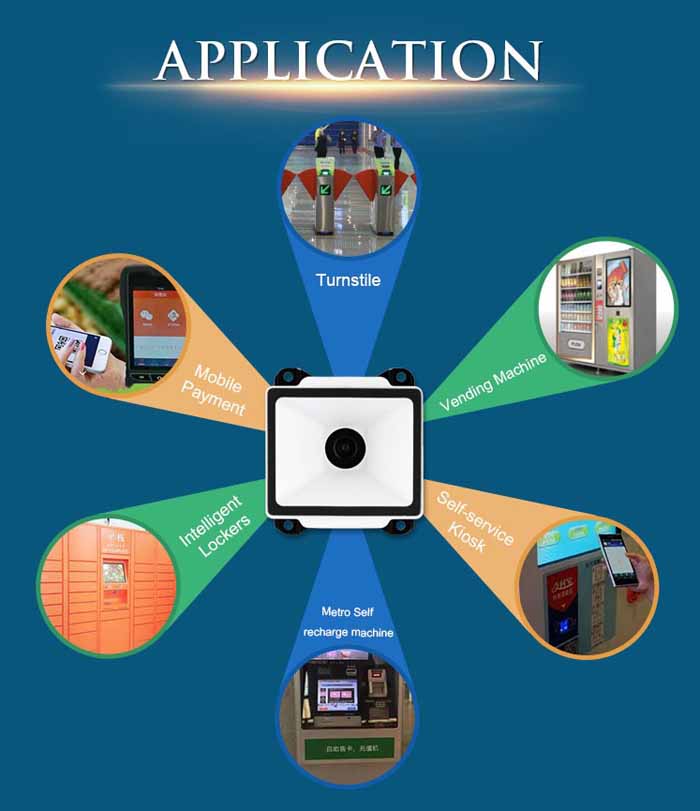 We have 6 kinds of qr code scanning module with different properties and sizes in this series. If you are interested, please contact us.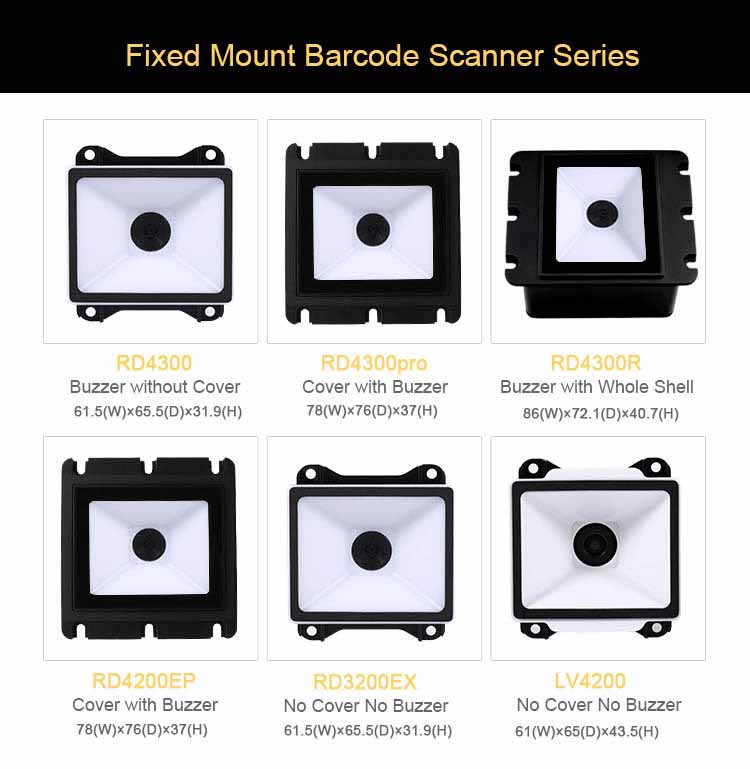 Performance
Image Sensor
752×480 CMOS
Light Source
White LED
Symbologies
2D
PDF417, QR Code (QR1/2, Micro), Data Matrix (ECC200, ECC000, 050, 080, 100, 140)
1D
Code128, UCC/EAN-128, AIM-128, EAN-8, EAN-13, ISBN/ISSN, UPC-E, UPC-A, Interleaved 2 of 5, ITF-6, ITF-4, Matrix 2 of 5, Industrial 25, Standard 25, Code 39, Codabar, Code 93, Code 11,Plessey, MSI-Plessey, GS1-DataBarTM(RSS), (RSS-14, RSS-Limited, RSS-Expand)
Resolution
≥5mil
Typical Depth of Field
EAN-13
10mm-55mm (13mil)
PDF 417
15mm-35mm (6.67mil)
Data Matrix
15mm-40mm (10mil)
QR Code
10mm-50mm (15mil)
Symbol Contrast
≥30% reflectance difference
Scan Angle**
Roll: 360°, Pitch: ±40°, Skew: ±40°
Field of View
Horizontal 80°, Vertical 56°
Mechanical
Interface
USB
Electrical
Operating Voltage
3.0~5.5VDC
Current@5VDC
Operating
160mA
Sleep
12mA
Dimensions
65.1(D)×61.1(W)×43.6(H)mm
Weight
41.5g
Environmental
Operating Temperature
-20℃~+60℃ (-4°F~140°F)
Storage Temperature
-40℃~+80℃(-40°F~176°F)
Humidity
5%~95% (non-condensing)
Ambient Light
0~100000lux (natural light)
Accessories
USB Cable
Used to connect the LV 4200 to a host devic