Using Rakinda third generation decoding technology, suitable for all kinds of DPM bar code scanning, industrial decoding algorithm, excellent performance.Compact structural design for easy integrated installation ; 28 x 20.5x 118mm body can be easily integrated into a variety of handheld portable or fixed bar code reading devices.
Quality Scanner Module Features
* RD12HD is a high-performance engine positioned to read DPM bar codes, Based on powerful DPM industry decoding algorithms and excellent optical design, almost competent for any industrial application scenario under the various DPM code reading.
* RD12HD is equipped with a 1280 * 800 megapixel image sensor with global exposure, Combined with RAKINDA industrial decoding technology, can achieve the highest 70 frame rate per second efficient image recognition.
* RD12HD with a laser point, point clearly visible, equipped with 4 high - brightness color LED lights, can provide white, blue, red three colors of intelligent switching. Equipped with software with rich intelligent debugging mode, in the face of complex applications, achieve the best bar code reading requirements. Also equipped with professional PC software debugging tools, make debugging visible, efficient and fast.
* RD12HD is very easy to integrate into all kinds of devices, a universal 12 pin ZIF connector and 3.3 V power supply, support TTL and USB analog serial port signal output, There are buzzer、LED indication interface and external trigger signal output and external LED.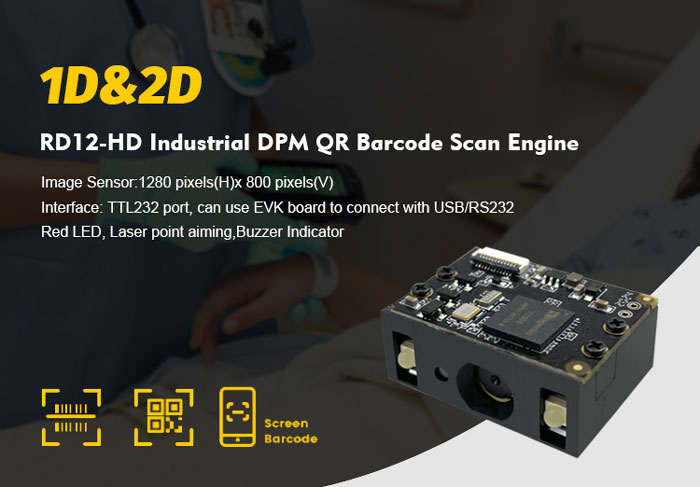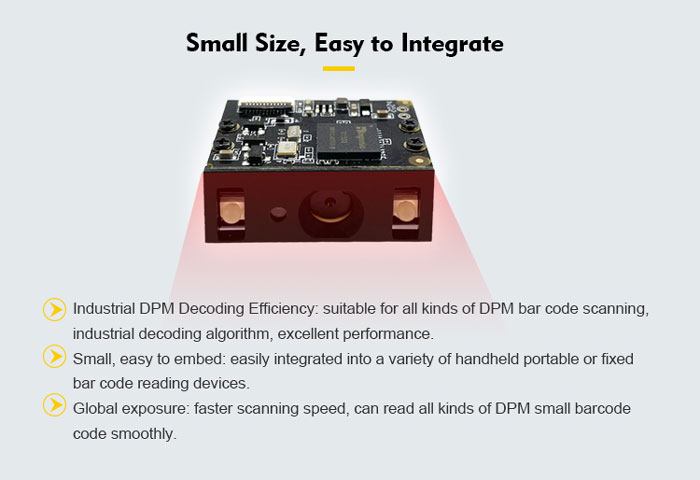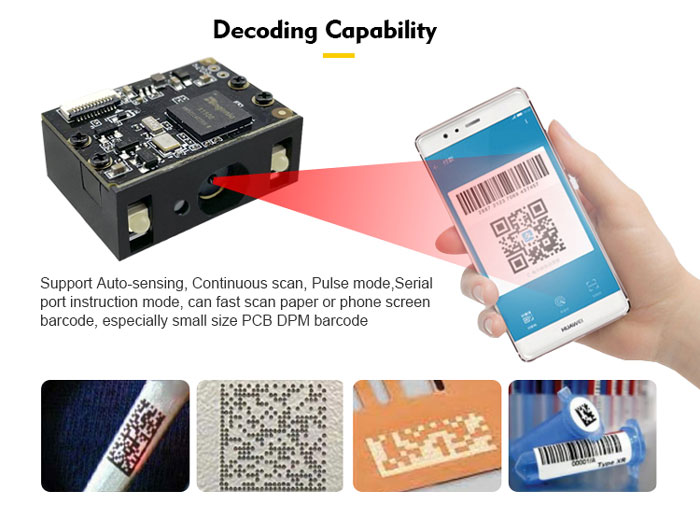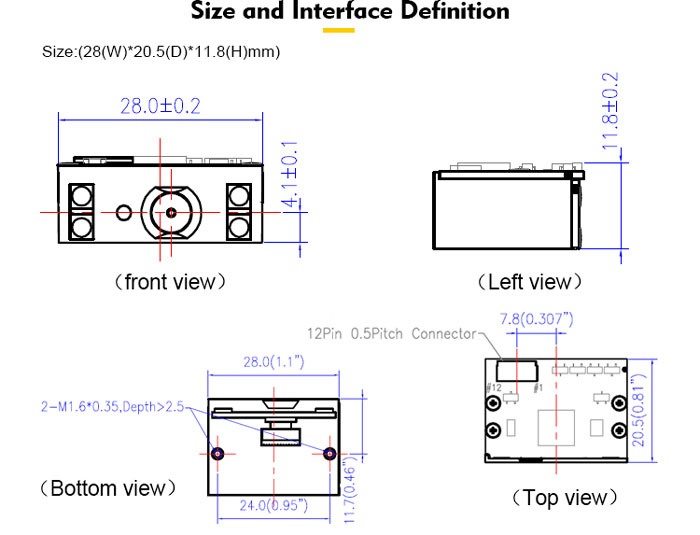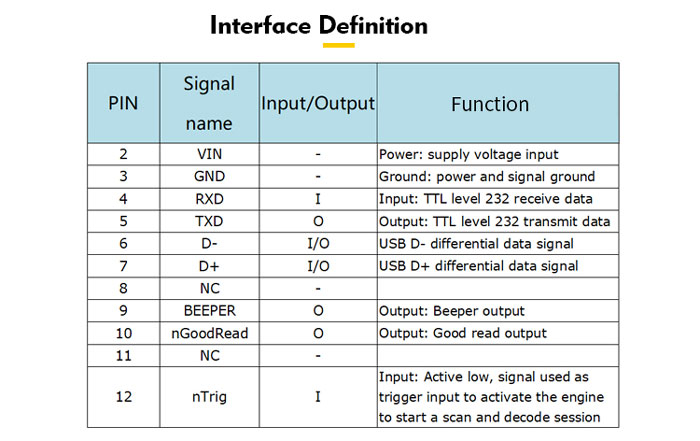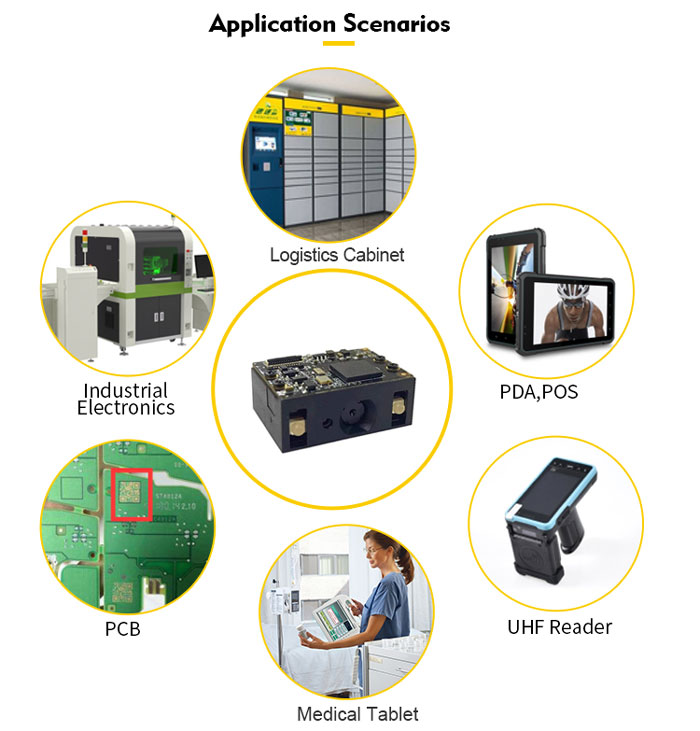 Scan Performance

Optical System

1280 pixels(H)x 800 pixels(V)

Illumination Element

Red LED

AIMING

Laser point

Scan Mode

Auto-sensing, Continuous scan, Pulse mode,Serial port instruction mode

DECODING

CAPABILITY

1D

UPCA,UPCE,EAN8,EAN13, Code 128 , Code 39 , Code 93 ,

Code 32, Code11 , Codabar ,Plessey, MSI, Interleaved 2 of 5

2D

Data Matrix , QR Code, Micro QR , PDF 417 , Micro PDF 417 ,

Min. Bar Width

1D: >3 mi@ code 39 ; 2D : >5 mil @ QR Code

Depth of Field

Code 39 (3mil) 50mm〜90mm

Data Matrix(5mil) 50mm~95mm

Data Matrix(10mil) 40mm~150mm

QR Code (5mil) 45mm~70mm

QR Code (7mil) 35mm~120mm

Scan Angle

Horizontal 46° (H), Vertical 29° (V)

Print Contrast

>20%(UPC/EAN 100%, PCS 90%)

Mechanical &

Electrical

Parameters

Dimensions

28(W) x 20.5(D) x 11.8 (H)(mm)

Weight

About 7g

System Interface

TTL232, USB (extra board needed) , RS-232 (extra board needed), Virtual COM

Port

Indicator

Buzzer、LED

Input Voltage

DC 3.3V±5%

Operating Current

300 mA ±5% (Typical) ,450 mA ±5% (Max.)

Environment & Safety

Operating Temperature

-10。。〜+ 50°C

Storage

Temperature

-40°C〜+70°C

Humidity

5%~95% (non-condensing)

Ambient brightness

0~8,600Lux(fluorescent);0~100,000Lux(sunlight)