LV3096R OEM scan engine, armed with the LongView patented, a computerized image recognition system, brings about a new era of 2D barcode scan engines.
The LV3096R's 2D barcode decoder chip ingeniously blends technology and advanced chip design & manufacturing, which significantly simplifies application design and delivers superior performance and solid reliability with low power consumption.
The LV3096R supports all mainstream 1D as well as PDF417, QR Code (M1/M2/Micro), Data Matrix and GS1-DataBarTM(RSS) (Limited/ Stacked/ Expanded versions).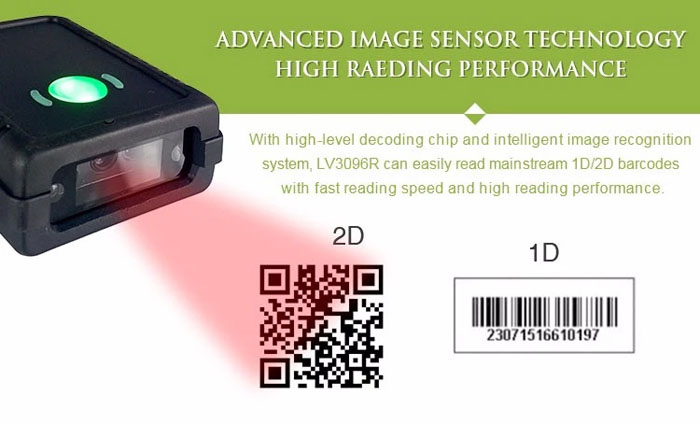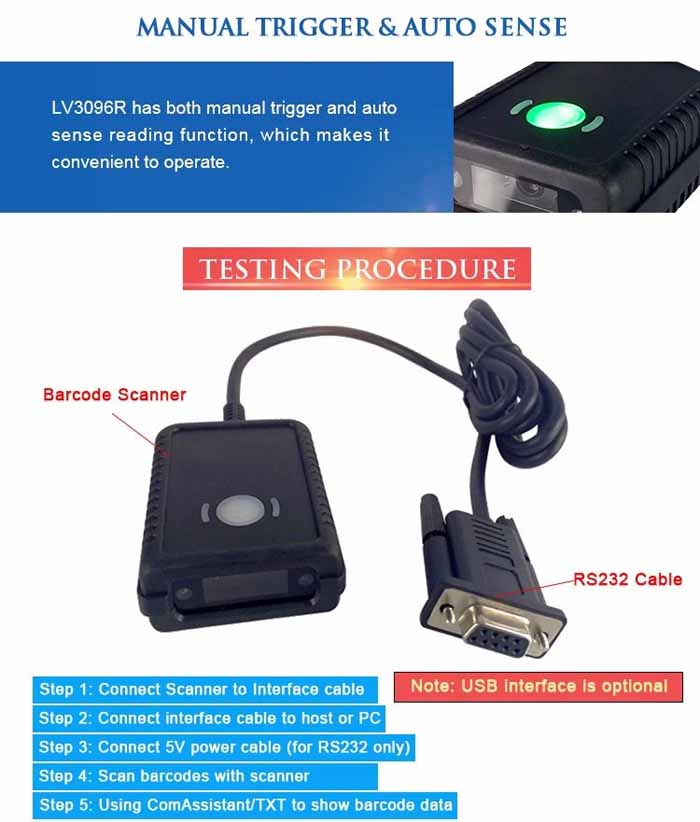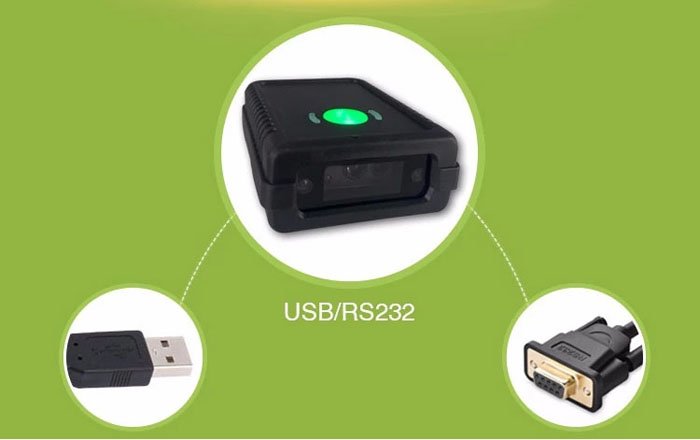 Image Sensor
752×480 CMOS
Processor
IOTC 2D decoder chip 48MHz
Illumination
Red LED 625±10 nm
Symbologies
2D: PDF 417, Data Matrix (ECC200,ECC000,050,080,100,140), QR Code
1D: Code 128, EAN-13, EAN-8, Code 39, UPC-A, UPC-E, Codabar, Interleaved 2 of 5, ITF-6, ITF-14, ISBN, Code 93, UCC/EAN-128, GS1 Databar, Matrix 2 of 5, Code 11, Industrial 2 of 5, Standard 2 of 5, Plessey, MSI-Plessey, etc.
Reading Precision
≥ 5mil
Depth of Field
EAN13 (13mil) 55mm - 185mm
Code 39 (5mil) 55mm - 100mm
PDF 417 (6.67mil) 40mm - 50mm
Data Matrix (10mil) 40mm - 135mm
QR Code (15mil) 40mm - 160mm
Symbol Contrast
≥ 30% reflectance difference
Scan Angle Roll
360°, Pitch: ±55°, Skew: ±55°
Field of View
Horizontal 36°; Vertical 23°
Interface
RS -232, USB
Rated Power Consumption
0.79 W
Operating Voltage
V DC
Current
@ 5 VDC
Operating Current
240 mA
Sleep Current
<5.15 uA
Dimensions
69.46(L)×48.11(W)×22.15(H)mm
Weight
80 g
Operating Temperature
-20℃~ +60℃
Storage Temperature
-40℃~ +80℃
Humidity
5% ~ 95% (non-condensing)
Ambient Light
0 ~ 100000 lux (natural light)
FCC
Part15 Class B, CE EMC Class B
Cable
RS-232 Cable Used to connect the LV3096R to a host device; equipped with a power
USB Cable
Used to connect the LV3096R to a host device.
Power Adaptor
Used to provide power for the EVK3000.
Output
DC5V, 2A; Input: AC100~240V, 50~60Hz
Test conditions
T=23℃, Illumination=300 LUX
Code 39, 3 Bytes; Resolution=10mil; W:N=3:1; PCS=0.8; Barcode Height=11mm; Scan Distance=120mm, T=23℃, Illumination=300 LUX