This is a megapixel two-dimensional scanning engine, which has very leading product performance of similar products, and can work stably and uninterrupted for a long time. The integrated development of RD11P is very easy, and the company provides complete development documents. Provides trigger scan working mode, provides LED and Buzzer indication interface, which can almost meet any application of your regular one-dimensional and two-dimensional scanning requirements.
1D 2D Bar code Scan Engine Features:
* Armed with Rakinda 's six-generation of technology, the scan engine can swiftly and effort lessly decode even poor quality barcodes.
* Seamless integration of image sensor and decoder board makes the scan engine small, lightweight and easy to fit into even the most space-constrained equipment. Easy for integration.
* The engine can read 1D and 2D barcodes with a power consumption only one third that of a traditional engine.
* It can read barcodes on virtually any medium - paper, plastic cards,mobile phones and LCD display.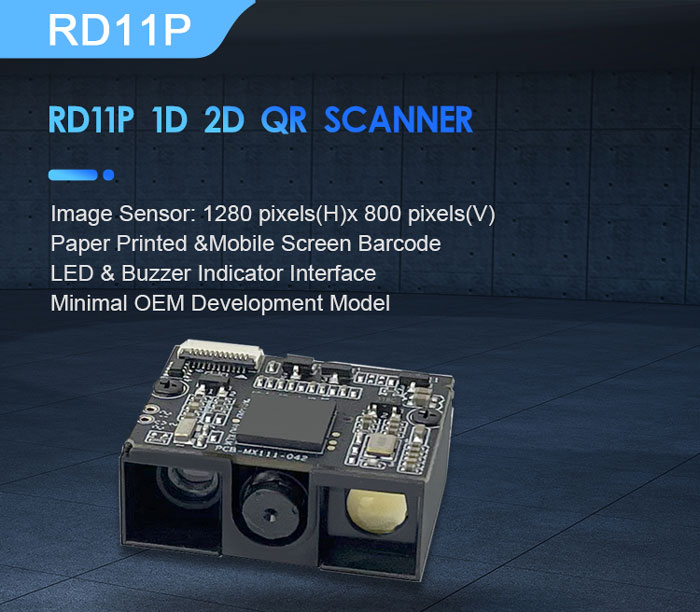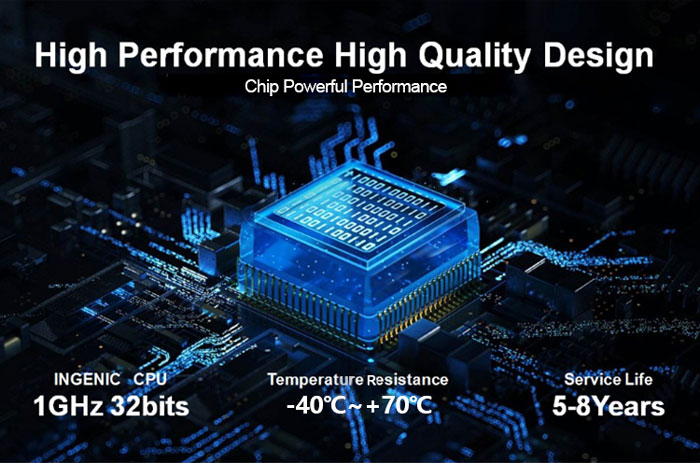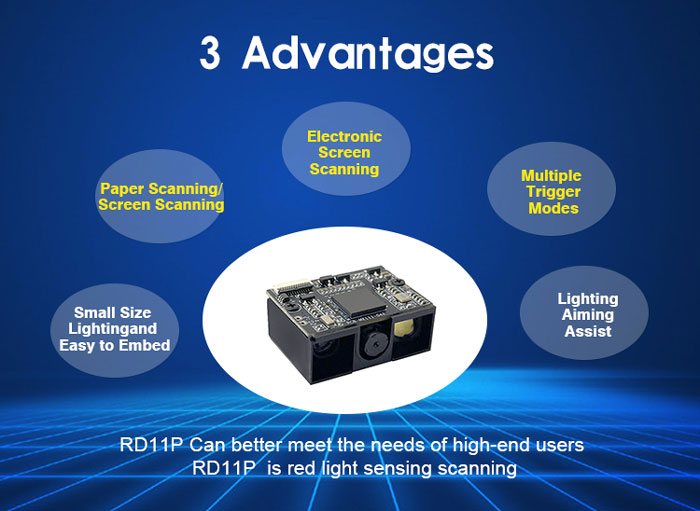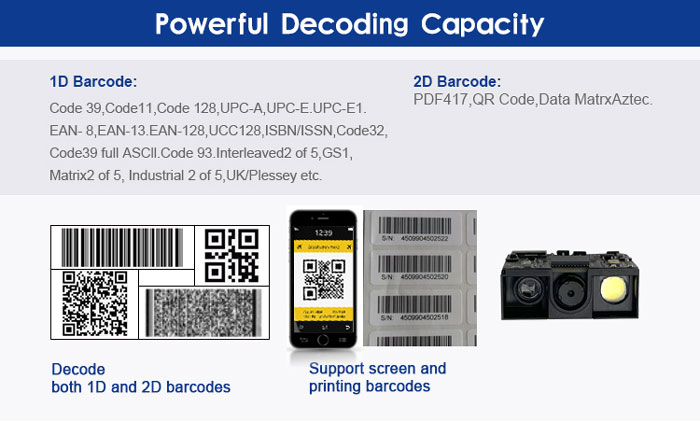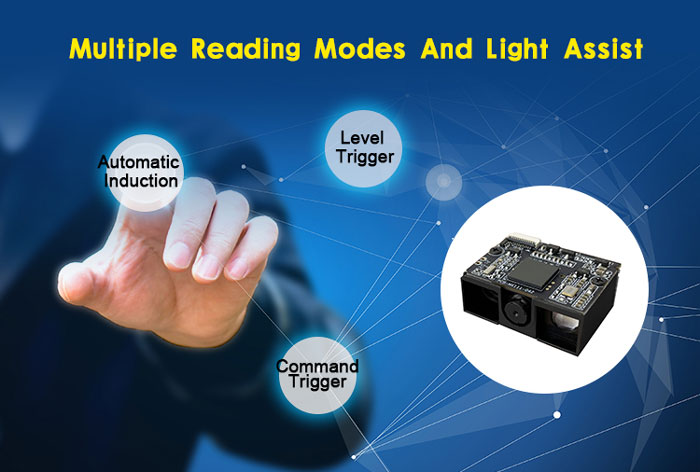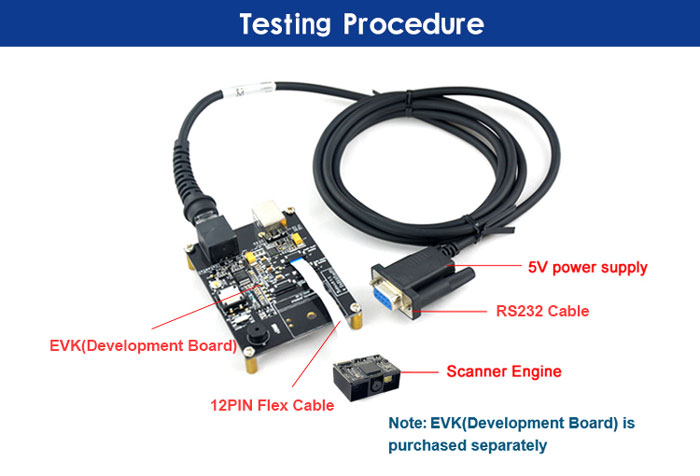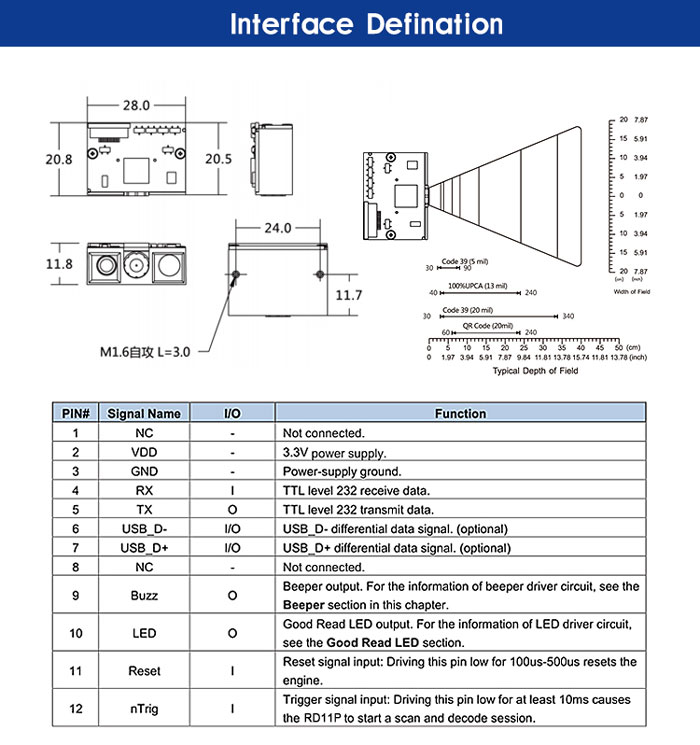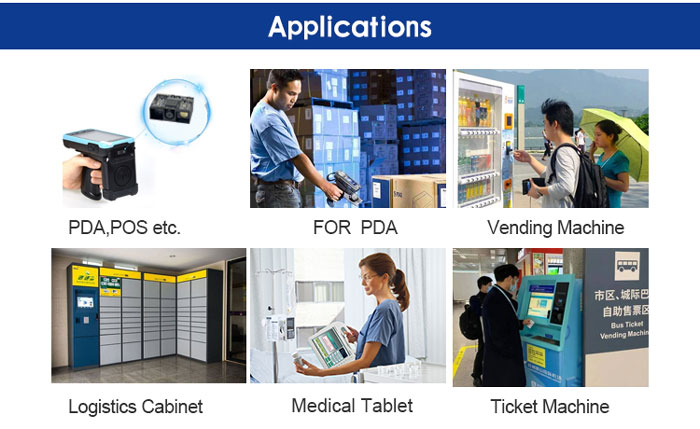 Specification

Optical System

1280 pixels(H)x 800 pixels(V)

Illumination Element

Aiming: 617nm LED; Illumination 5600K White LED

Depth of Field

30 mm - 320 mm @UPCA -13 mil 100 %,PCS 90%

Scan Angle

46° (H) x 29° (V)

Min. Bar Width

0.1mm(4mil)@Code 39, PCS=90%

Scan Mode

Trigger mode, Auto-sensing, Continuous scan, Pulse mode

Print Contrast

> 30%(UPC/EAN 100% , PCS 90%)

System Interface

USB 1.1 (HID Keyboard、Virtual COM Port) RS-232 (9.6~115.2Kbps)

Depth of Field




PHYSICAL CHARACTERISTICS

Dimensions

28.2mm x 20.5mm x 11.8mm

Weight

About 5g

Input Voltage

DC 3.3V±5%

Operating Current

130 mA ±5%(Typical), 300 mA ±5%(Max.)

REGULATORY

EMC

CE EN55022 B, FCC Part 15 Class B, VCCI, BSMI

ENVIRONMENT & SAFETY

Operating Temperature

-20℃~50℃

Humidity

5%~95% (non-condensing)

Storage Temperature

-40℃~+70℃

Light Level

0~100,000Lux(fluorescence )

DECODING CAPABILITY

UPC/EAN/JAN,UPC-A & UPC-E,EAN-8 & EAN-13, JAN-8 &JAN-13, ISBN/ISSN, Code 39 (with full ASCII), Codabar (NW7), Code 128 & EAN 128,Code 93,Interleaved 2 of 5 (ITF),Addendum 2 of 5, IATA Code,MSI/Plessy, China Postal Code,Code 32 (Italian Pharmacode),RSS 14,RSS Limited, RSS Expanded

PDF417 MicroPDF417

Data Matrix QR Code Micro QR Code Aztec Code Maxi Code

Reads barcode reliably of cell phone screens